Michael Schiavo buried Terri Schindler Schiavo's remains on Monday, June 20, 2005 in Sylvan Abbey Memorial Park in Clearwater, Florida.
In keeping with what appears to be Scientology's "disconnection" policy and in violation of a court order, Michael Schiavo did not inform the Schindlers of the burial beforehand. He even inscribed the inflammatory words, "I kept my promise" on Terri's grave marker:
Michael Schiavo angered his late wife's family Monday by not notifying them about the burial beforehand and by inscribing on her bronze grave marker the words "I kept my promise."

(Schiavo's Remains Buried Amid Acrimony http://www.washingtonpost.com/wp-dyn/content/article/2005/06/21/AR2005062100204.html)
Notice that Michael Schiavo used Terri's grave marker to affirm Scientology's "complete unconsciousness is death" doctrine.
The words on Terri's bronze grave marker are as follows: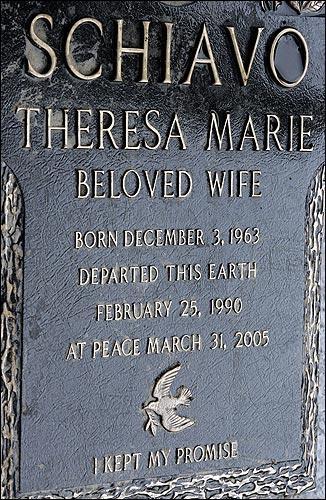 Schiavo
Theresa Marie
Beloved Wife
Born December 3, 1963
Departed this Earth
February 25, 1990
At Peace March 31, 2005
I kept my promise
Departed this Earth
February 25, 1990
At Peace March 31, 2005
Since Michael's attorney, George Felos, contended that Terri had no consciousness and Scientology founder, L. Ron Hubbard said that "complete unconsciousness is death," it followed that Michael wrote on Terri's grave marker that she "departed this earth" (died) on the date that she initially lost consciousness: February 25, 1990.
Terri did recover consciousness according to a report signed by Dr. Baras of Bayfront Medical Center:
Dr. Baras wrote, "Patient is awake and eyes are open." "She does give eye contact to family members." (See: Terri Schiavo: 1991 Bone Scan)
Even though Terri regained enough consciousness and cognitive ability to passionately communicate her desire to live, that did not stop Michael Schiavo from dehydrating her to death under a court order the media failed to reveal is illegal, and blatantly marking her grave with Scientology death doctrine.
Related article: Michael Schiavo: "Terri Died 15 Years Ago"
Judge Greer's Scientologist Campaign Manager