Altered Picture of Terri Schiavo Made Her Appear to Be Dehydrated--Long Before Her Death
Warning: Autopsy picture of Lisa McPherson is displayed below on the left.
The altered picture of Terri Schiavo that was displayed on terrisfight.org for years is displayed on the right for comparison.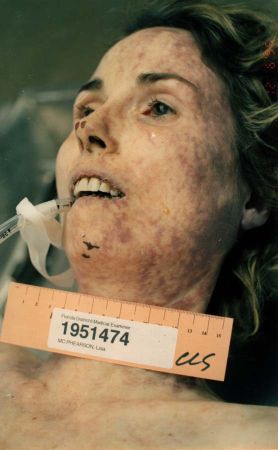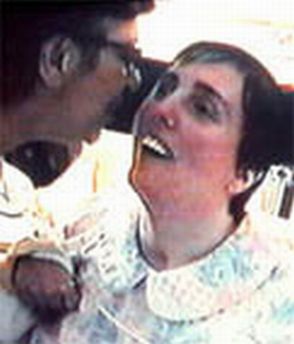 Altered Photo of Terri Schiavo
(Photo source: terrisfight.org)
Lisa McPherson
Lisa McPherson's autopsy photo closely resembles the altered photo of Terri Schiavo. Are we supposed to believe that this is a coincidence?
Lisa's lower lip is so shriveled and her eyes are sunken as a result of her severe dehydration.
The altered picture of Terri (that used to be on the main page of terrisfight.org) shows an extremely shriveled lip that is remarkably similar to Lisa McPherson's lower lip. This alteration caused Terri to look as if she had an obvious overbite. Terri's eyes have been altered to appear sunken and her right eye was made to look as if it has been plucked out of her head.
Lisa's upper lip is withered and black scabbing is apparent. Compare Terri's mouth with that of Lisa McPherson's.
The altered picture of Terri makes her upper lip look non-existent! Black outlining at the roots of her teeth cause her to appear even more dehydrated than Lisa McPherson! Terri Schiavo was made to appear as though she was already dead.
[Related articles: Scientology's Already Dead Doctrine: Michael Schiavo said Terri Died 15 Years Ago, Michael Schiavo marked Terri's Grave with Scientology Death Doctrine]
For more about Terri's altered photo see: Fake Name and Fake Picture
Altered Pictures on terrisfight.org
Damage controllers will tell you that these alterations are pixel distortions. Pixel distortions do not form numerals and letters,