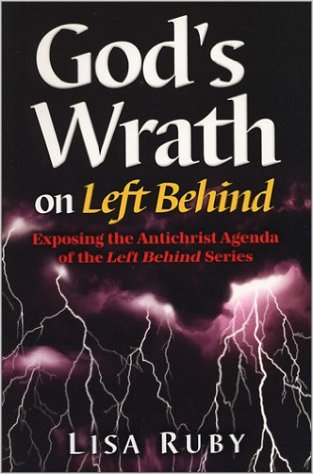 The Left Behind Series is conditioning people to believe that during the Tribulation Christians may work for Satan's Antichrist, deny Jesus Christ before men and confess that Antichrist is lord without forfeiting the salvation of their souls.
Jerry B. Jenkins, who claims to have written the Left Behind Series as "a process of discovery," (1) has woven themes throughout the novels that present a counterfeit brand of 'Christianity' that is opposed to the doctrines of Jesus Christ.
Why Write a Book About About a Fictional Series About the Last Days?
The authors of the Left Behind Series, Tim LaHaye and Jerry B. Jenkins, want the reader to believe the books about based on a scriptural outline. This is not the case.
God's Wrath on Left Behind reveals:
How the Left Behind Series subtly promotes sins such as adultery, lying, stealing, abortion, pre-marital sex, suicide, infanticide, murder, coarse jesting, sarcasm, denying Jesus Christ, confessing Antichrist—and more.
Clear evidence the Left Behind books are based on an anti-Christ foundation.

The books' dangerous false teachings about the "mark of the beast."

Undeniable proof that Left Behind denigrates the Lord Jesus Christ.

How the series promotes New Age tenets and a New Age Christ.
216 pages
God's Wrath on Left Behind has been FREE since June 2006.
To order God's Wrath on Left Behind, send a note with your name and address and $3.25 for one book -- estimated media rate. One book per household.
Make check or money order payable to Lisa Ruby and and mail to:
1123 Chinquapin Road
Travelers Rest, SC 29690
International Orders Press Release Tim LaHaye's Comments Regarding Ruby's Criticism of the Left Behind Series

Liberty To The Captives Podcast: Sex and the Left Behind Series: Listen to Audio or SUBSCRIBE
notes
(1) "I write as a process of discovery." Quote source: Jerry Talks About His Characters in Left Behind http://www.leftbehind.com/channelinteract.asp?pageid=856&channelID=79
Return to: Exposing False Doctrines in the Left Behind Series