Freemasons Lay the Foundation Stone for Spurgeon's Metropolitan Tabernacle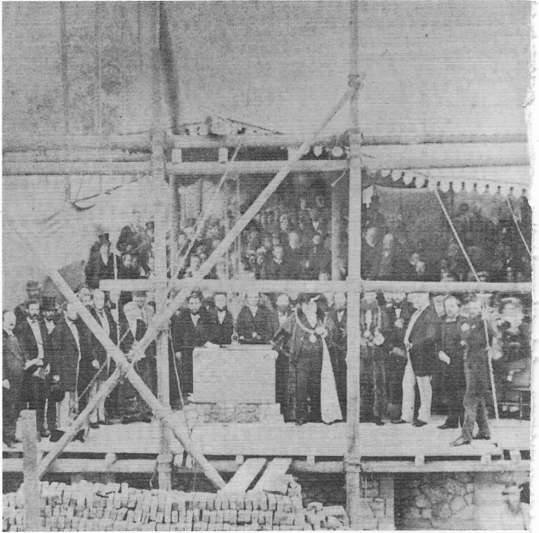 The laying of the Foundation Stone for the Metropolitan Tabernacle in London, England, was an official Masonic ceremony.
This photograph is found in the book, C. H. Spurgeon Autobiography: Volume 2 The Full Harvest. The Banner of Truth Trust, 1973, Reprinted 2006
The caption reads as follows:
"The laying of the foundation stone of the Metropolitan Tabernacle."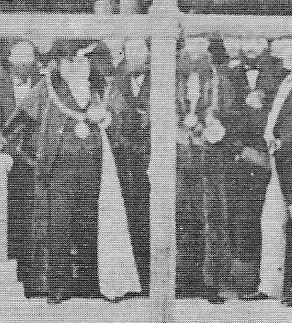 A close-up reveals two Freemasons on the platform wearing Masonic regalia. The presiding Freemason over the ritual would have been Sir Morton Peto because Charles Spurgeon sad he was the one who performed "the Ceremony of laying the First Stone":
"The Ceremony of laying the First Stone was then performed in the customary manner by Sir S. M. Peto, amidst the loud acclamation of the Spectators." (1)
Notes:
(1) The Ceremony of the Laying of the First Stone of the New Tabernacle For the Congregation of the Reverend C. H. Spurgeon (#268-270
https://archive.spurgeon.org/sermons/0268.php
Also see: Charles Spurgeon: Prince of Pretenders Index of Articles
Charles Spurgeon Posed With the Vulcan Hand Sign
Charles Spurgeon: Prince of Pretenders --Photos of Spurgeon's Ancient Mystery Religion Hand Signal--Lion's Paw
Charles Spurgeon: Prince of Pretenders -- Marked His Sermons With Luciferian Terms
Susannah Spurgeon Posed With the Inverted V Sign Occult Hand Signal