Back To Main Page
|
Email Us
Charles Spurgeon Uncensored Memes
Charles Spurgeon said the Destroyer is his Father
This quote is found in Charles Spurgeon's sermon, "The Great Birthday and Our Coming of Age" No. 1815.

I suggest that you Google this sermon and read it in context, which, by the way, doesn't negate or change the meaning of what Spurgeon plainly said.

Apollyon means destroyer.

Charles Spurgeon said the Destroyer is his Father: "I am not alarmed at the thought that He will call me to Himself in due time."

In the next sentence, Spurgeon wrote, "My God, You who shall call the multitudes of the SLAIN from their graves to live I look forward with joy to the hour when You shall call and I shall answer You."

Remember, Spurgeon is talking directly to his Father—his GOD—the Destroyer. (Satan kills his own, but his followers believe he will raise them from the dead.)

This sermon was delivered (preached) on the Winter Solstice—DECEMBER 21, 1884.

Revealing indeed.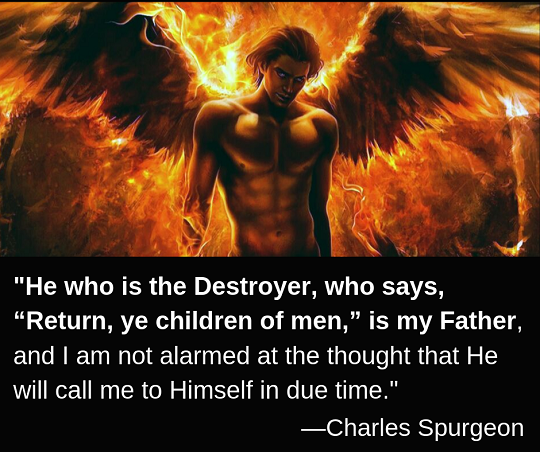 Return to
Charles Spurgeon Uncensored Memes
Liberty To The Captives Established in June 2001