No Greater Joy Published Book With Point Within a Circle Symbolism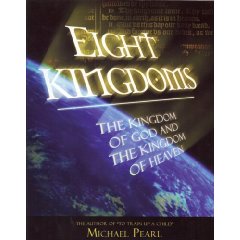 See the point within the "o" in "KINGDOMS."
The occult font Michael Pearl used for his Eight Kingdoms cover is "Celtic Garamond."
Also notice the Celtic Garamond font that Michael Pearl used for his Eight Kingdoms book was used in the "Vamp List" banner shown below.
(Please scroll down for the remainder of this article.)
There are thousands of fonts to choose from. Considering the pagan, magical and druidic practices of the ancient Celts, I wonder why Mr. Pearl selected a Celtic font for his book cover, especially one that contains sun-god/phallic symbolism.
(Note: Michael Pearl used a Celtic font for the cover of his Marriage God's Way DVD too.)
Disclaimer and warning: The banner, Vamp List, advertises an occult website. It is used here is for educational purposes only. If God has not given you specific research to do to expose evil, do not go to occult websites.
Use of images conforms to the terms of the Fair Use Copyright Law.
source of Eight Kingdoms image: http://www.amazon.com/Eight-Kingdoms-then-there-was/dp/1892112620 source of Vamp List image: http://evil.thegothlist.com/
Return to: WARNING! No Greater Joy Ministries: Occult Markings -- INDEX PAGE
More dispensational works marked with "point within a circle" symbol: Scofield Study Bibles Marked With Masonic Symbolism